By: Mary Pipher
Writer, activist and psychologist Mary Pipher's book centers on the issue of women's experiences aging and growing older, which sounds as if it might be depressing or negative but manages to be inspiring yet incredibly realistic. Pipher deals with the physical, spiritual, emotional and community aspects of aging, all of which have pros and cons. She delves into her personal experiences with health issues, grief and loss, and how she has managed to address obstacles and either turn lemons into lemonade (for lack of a better expression) or simply face the reality of her situation and move on. Pipher also writes about the experience of caregiving, what it feels like to be a caregiver and the richness of caregiving. She also tells stories of women who have felt sometimes overwhelmed with care taking responsibilities. For caregivers and care seekers alike, this book will provide valuable insight.
As a woman of 45, I am not necessarily in the audience Pipher's book is geared toward (which is 60+), but much of what Pipher writes about still resonates with me either personally or with what I see my mother, family members and friends experiencing as they pass the 60 year mark. This book gave me a hopeful, realistic expectation for what is to come, should I be lucky enough to reach 60 and beyond, and I'm grateful for the perspective it sheds on aging from a female perspective.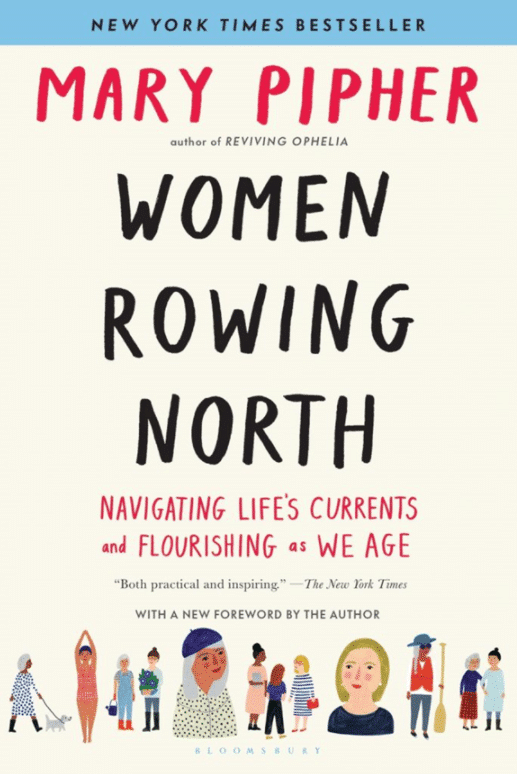 Here are 10 Things I loved about Pipher's Women Rowing North:
1. Though Pipher writes about and from the female perspective, much of aging and growing older is universal. A great deal of what is discussed in this book would be equally relevant for men, and it might help couples better understand the experience of rowing north from their partner's perspective.
2. In Chapter 1, Pipher writes, "My body would age; my soul would expand." This is a lovely and true thought. Though our bodies age, our souls, minds and emotions are not as limited as the physical manifestations of ourselves.
3. Pipher notes that we must fight ageism….even in ourselves. I thought this concept was a useful reminder. We often think of negativity or struggle as external hardship, but we often have internal barriers to growth we must contend with. It made me stop and think: what are my negative associations with aging?
4. Pipher addresses the difference between loneliness and solitude in Women Rowing North, which is a compelling and important concept to ponder. So often, we feel lonely as we age (when friends move, kids have busy lives of their own and loved ones pass away), but there is also comfort in solitude, which we often have the wisdom to appreciate as we grow older.
5. In Chapter 3, Pipher discusses the idea of "Healing Packages," which are rituals to help us heal, which are key to resiliency. It makes one think about how we each individually heal, and how we can develop habits to aid this process so that we are stronger, healthier and more resilient for our future. Healing Packages can be anything from time with loved ones, better sleep hygiene or avoiding the evening news if we find it disturbing. From healthy, soothing foods to daily rituals, we can all contribute to our own healing.
6. In Chapter 9, Pipher writes, "Each of us has the freedom to decide what is essential." This is an important message, particularly as we age, because our lives can be either reactive or proactive. We can either spend our time reacting to the external world, or we can decide what matters to us as individuals and create lives shaped and empowered by these essential values.
7. Finally, one of Pipher's loveliest messages is that the future is today. We can watch the sun set today. We can call a friend, meet for coffee, do yoga, take a nap, play with a grandchild, have an argument, eat chocolate, sip coffee or go to a drive-in movie….today. We often get caught up in planning for the best tomorrow, but the future is today.
8. Jeeves gives Women Rowing North a full 4.5 stars for giving him a nuanced perspective of a woman's view of aging and for encouraging him to appreciate the small treasures in his own life.
9. Pipher notes, in Chapter 9, "In life, as in writing, it is as important to know what to delete as it is to know what to add." Editing, even in life, is the key to quality over quantity.
10. Finally, Pipher makes a note in Women Rowing North that sits with me as a woman in middle age. She notes that many women my age are too busy (with work, kids and a lot of hustle) to make deep, long-lasting friendships with other women. We pay the price for this later, when we have time but perhaps not the depth of friendships we desire to truly appreciate and fill that time. I am sitting with this reminder now, and I am thoughtful about how to avoid this mistake.
Mary Pipher is the author of 10 books including her #1 New York Times bestseller Reviving Ophelia. For more about Pipher and a list of her books, visit her website at https://marypipher.com.
If you are looking for a Caregiver for yourself or a loved one, consider CaregiverNC. We are North Carolina's only accredited Caregiver Registry. Through our Web platform, you can create a profile that describes the characteristics of the ideal Caregiver for your needs. Our database then matches you with a list of Caregivers to choose from who meet the criteria you identified when creating your profile.
If you would like more information, our team members are standing by to assist you, simply call (910) 692-0683 or contact us online, here.

Women Rowing North: Navigating Life's Currents and Flourishing as We Age
was last modified:
June 21st, 2023
by